Rev. Petri van Rooyen
Pastor
About Me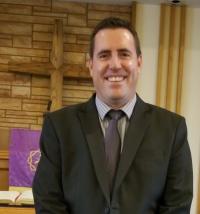 Petri van Rooyen is our new full time pastor of Word and Sacraments.  He and his family arrived in the United States of America in March 2019.  He has a wife (Janette), a daughter (Marli) and a son (Edrich). Pastor Petri and his family were born in South Africa.
He was a pastor in the Nether Dutch Reformed Church of Africa for the last 12 years.    
He studied theology at the University of Pretoria (South Africa) and graduated with a MDiv in Theology and with a MTh in Practical Theology.
Pastor Petri....
"Jesus Christ is my Lord and Saviour!  The Word of God is the foundation of my ministry.  I would love to share the Word of God to all ages and nations.  My goal is to introduce Jesus to people on the streets, at the schools, in the church and especially in rural Iowa"
-Where God is, there is love-
-Where love is, there is God-